Packet tea Distributorship for Uttar Pradesh

Tea Sample Described.
All tea gardens and wholesalers give samples. If you are a tea businessman and buying tea from a few gardens regularly, you are eligible for free samples.If you are first time buyer, you may have to pay for samples and courier charges. Gardens give two types of samples--- Lot samples and type samples.
Lot samples are the samples of exact lot the garden has produced and type samples are similar to the regular production of the garden.
Generally, Lot samples are given by the gardens to the Auctioneer or in case of a garden which can hold the stock for longer time or a garden where stock is slow moving and does not have sufficient private buyers.
Type sample are given by the gardens which can not or does not hold the stock for longer time or it has got numbers of private buyers and quality is steady.
In our case, we give type samples.
Manufacture Your Own Uttar Pradesh Tea Brand

Main Three Tea Qualities

Assam and Darjeeling tea are world famous for its price and quality whereas South Indian tea are not that famous in any market.
Our Tea Quality
Please remember, we do not sell very high quality COSTLY Assam tea. Rather we sell average quality, LOW COST Assam tea which is used by everyday tea buyers like you or us. You can compare our CTC tea with what you drink in your friends house or in restaurant or in road side good tea stalls.
We always tell our buyers Consumers never fail to appreciate better quality. Many tea businessmen, always look for low priced tea, so that he can sell it at low price than his competitors. But always remember, buy always low priced tea but never buy low quality tea. Low quality tea may be spurious, old stock and stale . It is always better to buy from source instead of buying tea from middlemen. Low priced tea may or may not be good and or hygienic, but better quality tea is always good and healthy.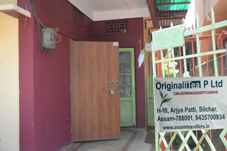 ORIGINALI
TEA
Private LTD Office
GSTN 18AADCO2473K1Z6
Register /Login
Our Tea on 21-09-21 No Digital Modification has been Done
except resizing. But it is always better to check actual tea samples. Because images do not represent actual quality.
You may Mail us at

Meaning of Tea Grades